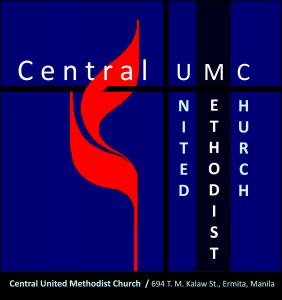 From: GLENN BAUTISTA
To: Rae
Sent: Fri, February 4, 2011 10:45:08 AM
Subject: Central UMC logo & vertical banner

Hi Rae,

Hope this will suffice.

Please inform me if there should be any changes, or additions.
I want to keep it as simple as possible. Only I can alter my design.

Blessings,
>-<)*> . . . glenn
- - - -

On Fri, Feb 4, 2011 at 6:15 PM, Ray Marcuelo wrote:

Dear GLENN,

What a beautiful morning! The Lord's hand surely have guided you. These designs are what I simply would describe as "CLASS, ELEGANCE , A GIFT FROM GOD." I love it, I like it so much. I think the Lord will be exceedingly glad to accept it as an offering . For so long, Central really never had it's own logo.

No, nothing to change. It's perfect as it is. I like the totality of the design that characterizes what a church logo should be. Right now I am thinking of a logo description. You may want to do it in your own words as the artist and because you grew up at Central and will always be a part of this church.

While viewing I felt there were others looking from behind me - Kuya Elmore and your Dad. Glenn how can I best express my appreciation to you except to repeat Psalm 118:1

Am initially sharing my joy with our Pastors:

Rev Ciriaco Francisco (Pastor Cerrie), Administrative Pastor, Tagalog Congregation
Rev Dr Edward Copliting (Pastor Ed), Ilocano Congregation,
Rev Dr. Alfredo Agtarap (Pastor Fred), English Congregation (Pulpit Supply Pastor)
Rev Edrick Ancheta, Youth Pastor
Pastor Chen , Chinese congregation . He is Taiwanese and a student at UTS and . .
Prof Joy Nilo, Music Director
Eva Rodriguez Angeles, Nurture Chair
Bellet Carpio, Christian Educ Com Chair and President, WSCS
Philina Absalon , Deaconess
Remy Pablo, Deaconess
Femie Biteng, Finance Committee and member of the 112th Anniv Committee

Maraming salamat, Glenn.

I will continue to update you on developments for the 112th anniv.
GOD IS WITH US.

Sincerely,
Rae
- - - -

Hi Ray,

Can you please decide which to use - - Ray or Rae, hehe.

Well, I'm happy you liked the Central UMC logo and the vertical banner.

I am glad I was able to give it time despite my very busy schedule. Am working on my art book now, a few portraits and my uncompleted pastels yet to be included in my book. Well the only way not to miss Pinas is to keep myself busy all the time.

Yes, keep me updated. Once a Methodist, always a Methodist.

Blessings,

>-<)*> . . . glenn

ps: My preference to keep the logo's interpretation open to allow others to interact. You will be surprised how others may view it. This is the reason why the design is abstract and simple. -gb
- - - - -

Leonard Johnson to GLENN
Feb 5 (2 days ago)

Hey, Glenn!

Hi from Len and Joyce here in Weatherford! Wow, that is quite a piece of art you did on that church logo/banner!
We sure miss you and Lorna! It would be good to see you again, visit, and catch up!

God bless.
Len & Joyce
- - -

Hi Len / Joyce,

I made it so simple that it can be used as a standard logo by any UMC just by changing the church's name and adding a few more.
I wonder what impact it would make if UMC really has a standard logo, not just the cross and red flame (holy spirit).

Lorna got extended here in Pearland for another 3 months. She is really liked wherever she works.

So, here I am creating more artworks and presently writing a book on my pastels and activities here in the US. It will take time for there's so much to include but, of course, I have to be very selective. Somehow, this keeps me busy and less lonely.

It's great to hear from you and I wish that we really get to visit with all of you there again. Lorna doesn't mind being reassigned there permanently after trying all the other settings (nursing, out-patient, hospital, etc) to add more to her resume and experience.

Here's a link to all our activities here in the US:
http://www.youtube.com/user/glenlorn#g/u

Blessings,

>-<)*> . . . glenn

- - -

Stanley Jacob to GLENN

Stanley wrote:

"What a wonderful offering Glenn.
You are God's artist."

-Stanley

- - - -

The Philippine Star, Thursday , March 17, 2011

Central United Methodist Church marks 112th Anniversary

The Central United Methodist Church (CUMC) celebrates its 112th founding anniversary on Sunday, March 20 with center of events at 694 T.M. Kalaw St. ,Ermita, Manila.

With the theme "Give thanks to the Lord, for He is good; for His steadfast love endures forever" (Psalm 118:1), the celebration will have Philippine Overseas Employment Administration (POEA) Administrator and PDEA Executive Director Carlos Cao, Jr, as guest speaker. An anniversary banner, designed by Glenn Bautista, a prominent visual artist who is based in Pearland, Texas, USA features the soaring spiritual flame expressing CUMC's vertical love and devotion to God, the highest praise and gratitude, the horizontal and cascading lines of the name of the faith community of Central UMC signifying compassionate love for neighbor.
One of the highlights of the anniversary is a Family Worship Conference on March 26 in collaboration with Keziah Ministries and the Central Upperbox.

The church traces its beginnings to the first Protestant worship service conducted by Dr. James Thoburn in March 1899 at the Teatro Pilipino on Carriedo Street.

Ms Ray Marcuelo , chairperson of the anniversary celebration, pointed out that the church is the people of God who express thanksgiving for God's goodness and grace in the past, joy for the present and hope for the future. Rev. Cerrie Francisco, administrative pastor said that "Central Church is a "Christ-centered church that reaches out." There are five worship services – Tagalog, Ilocano, English, Chinese and Vesper. A well-attended fellowship and worship service for the youth, the Central Upperbox, meets every Friday evening at the Student Center. Today, Central also boasts of seven choirs under the baton of a well-know composer and conductor, Prof Joy Nilo. For details contact Central United Methodist Church office, 02 8818564 or 0915 370 9088.

(Press releases appeared also in The Philippine inquirer and Business World. We are waiting for the press release in Tagalog)

- - - -

Afrie Songco Joye to GLENN
1:16 PM (2 hours ago)

i like the logo, glenn. and the colors too.