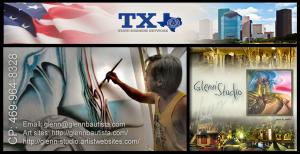 HOUSTON, TEXAS, UNITED STATES, August 29, 2013 /Texas State Business Network/ -- Prolific and extraordinary visual artist Glenn Bautista has been selected to join the exclusive ranks of Texas State Business Network as a result of his exceptional performance in the field of arts and crafts. Glenn has routinely exhibited the commitment, vision, and skills required to be considered among the best.

Since moving to Texas in 2009, Glenn Bautista has created over a hundred soft pastel drawings that capture, in a way that only his unique imagination can, the landscapes and life forms of the state's suburbs and cities—Garland, Weatherford, Pearland and Houston. Published in three art books, these drawings, including those made in Colorado and California, attest to his relentless pursuit of art wherever he may be.

From his home in Houston, Glenn Bautista runs his own art gallery in the Philippines, Glenn'Studio, home to over 300 pieces of his personal artwork collection from...